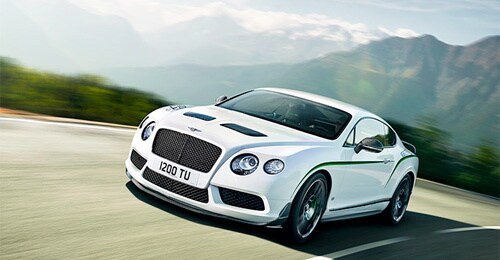 Special Preview: Bentley Continental GT3-R   

Inspired by the Continental GT3, the ultimate GT
The Continental GT3-R marks an exciting new chapter in the Continental story. It is, by far, the  most dynamic road car Bentley has ever created - a car inspired by our victorious racing heritage as much as our relentless refinement of the grand tourer. Not only is it crafted to the highest levels of luxury and performance, the Continental GT3-R has been specially developed in conjunction with the Bentley Motorsport division - the same team that took our GT3 race car  to first place at Silverstone in May 2014.
We have taken everything we know about racing and combined it with our renowned world-class drivability. To own this car is an opportunity of a lifetime: the Continental GT3-R is a limited edition,  the rarest and most dynamic member of the esteemed Continental family, hand-built in Crewe and finished in Bentley's Motorsport division.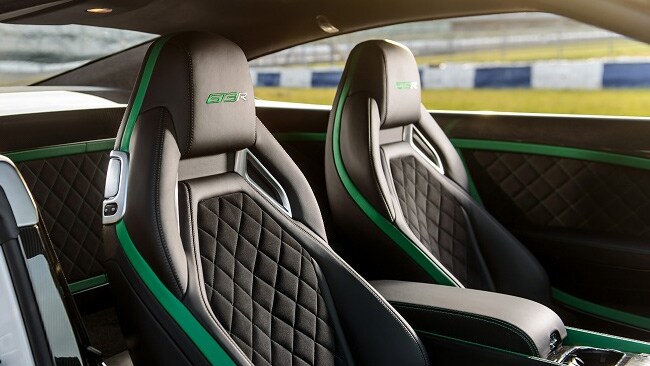 Performance: A road car with racing soul
It's a high-adrenaline experience behind the wheel of the Continental GT3-R. Bentley engineers have developed a retuned version of Bentley's race-proven, high performance 4.0-litre twin-turbo V8 for this new two-seater GT. Developing 580 PS (572 bhp / 426 kW) and 700 Nm of torque, together with a 100 kg weight reduction and shorter gearing, the Continental GT3-R is the fastest-accelerating Bentley ever. Capable of reaching 60 mph from a standstill in just 3.6 seconds (0-100 km/h in 3.8 secs), the GT3-R is a Grand Tourer with the performance of a racer.
Complementing the revised powertrain is a further development of Bentley's renowned all-wheel drive system, which now features torque vectoring for the first time. Together with modified Electronic Stability Control (ESC) and a chassis tune optimised for outright cornering ability, the Continental GT3-R is the most dynamic, responsive and involving Bentley road car ever.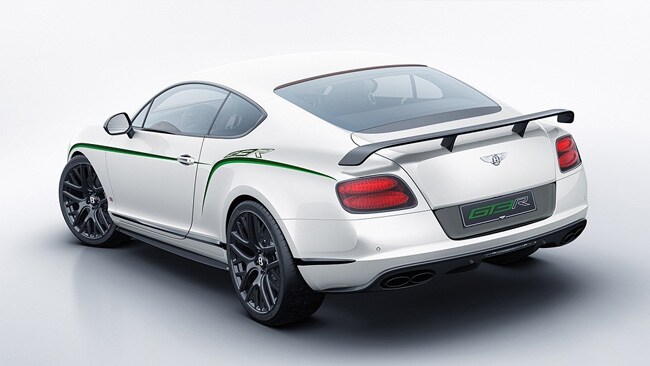 Exterior Design: Dramatic style
For the exterior of the Continental GT3-R, Bentley's Design team was tasked with creating a more purposeful stance than ever before. A new front splitter provides an assertive look to the front of the car, balanced by twin bonnet vents, door mirror caps, side sill extensions, rear bumper diffuser and a new fixed rear wing fitted to the boot lid - all finished in exquisite carbon fibre.
The gloss carbon fibre contrasts with Glacier White paint highlighted by two-tone green graphics that trace the two power lines to the side profile of the car. This references the Continental GT3 racing car, highlighting the performance pedigree of this agile road model.
Further inspiration from the Continental GT3 is reflected in the finishing touches to the exterior - the lamp bezels, radiator matrix grille, window surrounds and bumper strips - all finished in stylish gloss black.
The visual appeal of the Continental GT3-R is completed by an all-new lightweight 21" wheel, machine-forged from high-strength alloy and also finished in gloss black.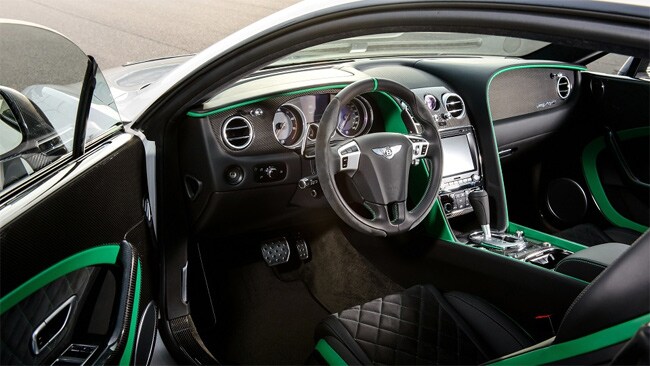 Interior Design: All Bentleys are a combination of luxury and performance
And the Continental GT3-R is no exception. Featuring a unique two-seat cabin hand-crafted from carbon fibre, Alcantara® and the finest leather, the Continental GT3-R is as breath-taking in its approach to interior design as to its dynamic ability.
The Continental GT3-R features a two-seat configuration, with new bespoke sporting seats with additional side support, finished in Beluga black leather with diamond-quilted Alcantara®. This exquisite material is also hand-trimmed to the steering wheel and gear shifter, while the centre console and fascia panels are hand-crafted in carbon fibre.
Carbon fibre is also used to create beautifully sculpted door casings that also include diamond-quilted Alcantara® inner panels. In place of the rear seats is a new uniquely trimmed rear cabin, complete with a carbon fibre surround and finished in leather and Alcantara®. Contrasting the motorsport-inspired interior colours is a vivid accent green, used as a highlight colour on the seats, instrument panel and door panels and in contrast stitching throughout the seats and diamond-quilted areas.
'GT3-R' badging adorns the passenger-side fascia panel and sill treadplates, while the seats receive 'GT3-R' stitching to the headrests in contrast-green thread.

Everyday Practicality: Delivering Luxury Together With Extreme Performance
When it comes to practicality, the Continental GT3-R provides the perfect balance of agility and refined luxury. With the Continental GT3-R, you can comfortably cruise to a track, enjoy the thrill of high-performance driving, and then comfortably cruise back. The two-seat interior of the Continental GT3-R has been designed for both performance driving and everyday use - satellite navigation, climate control and cruise control make it a practical and powerful choice. This racing-inspired Continental is both roadworthy and comfortable - which makes it a hard proposition to ignore.